Marinated Shrimp
---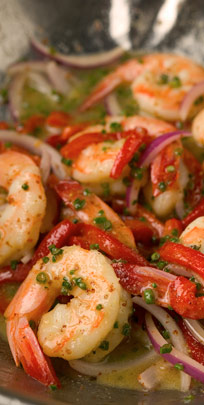 When I entertain at home I often set out a big bowl of these shrimp, and they are always the first dish to vanish. At Mr. B's we serve this as an hors d'oeuvre, but you can also serve the shrimp over greens for a delicious and healthy lunch or dinner.
Do not let the shrimp sit in the Creole mustard vinaigrette for more than two hours or the acid in the vinegar will change the firm texture of the shrimp. Be sure to use seasoned rice wine vinegar, unseasoned doesn't have the same level of sweetness.
1 lemon, halved
2 tablespoons liquid crab boil, preferably Zatarain's
1 teaspoon granulated garlic
1 teaspoon granulated onion
1 teaspoon whole black peppercorns
1 1/4 pounds large shrimp (16 to 20 shrimp per pound), peeled with tail left intact
1/4 cup seasoned rice-wine vinegar
3 tablespoons Creole mustard
10 tablespoons vegetable oil
2 tablespoons olive oil
kosher salt and freshly ground black pepper to taste
1 cup roasted red bell pepper strips
1 red onion, halved, center removed, and cut into 1/8-inch-thick slices
1/4 cup chopped chives
In a large saucepan add 5 cups water. Squeeze lemon into water and add lemon halves along with crab boil, garlic, onion, and peppercorns. Bring mixture to a boil. Add shrimp and boil 1 1/2 minutes, or just until they turn pink. Remove pan from heat and add 8 cups ice over shrimp mixture. Let shrimp sit, covered by ice, 10 minutes. Drain.
In a large bowl whisk together vinegar and mustard. Slowly whisk in oils and season with salt and pepper. Add shrimp, bell pepper, onion, and chives and toss. Adjust seasoning with salt and pepper as needed.
Yield: Serves 6