Chef Michelle McRaney
Executive Chef
---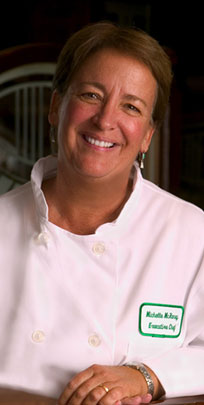 Distinctly different, Executive Chef Michelle McRaney not only successfully commands Mr. B's, but also her own household. Mother to Ethan and wife to Jerry, Michelle has accomplished the impossible, that of a successful female executive chef and loving mother and wife. According to Lisa LeBlanc Berry, "Those who make it to executive chef positions must be able to keep a food budget and hire personnel and have the stamina and confidence to succeed in a business long dominated by men."
Originally from Dunedin, Florida, Chef Michelle grew up in Fort Lauderdale, Florida and Charlottesville, Virginia. She attended Commonwealth University and graduated with a degree in Business Administration. Michelle left Virginia for New Orleans, and after a brief stint in banking, decided to try her hand at her first love-cooking. Some of Michelle's earliest memories are of sitting on a step stool in her mother's kitchen, and it was here that Michelle's passion for food was inspired.
During her externship at Delgado Culinary School Michelle became acquainted with Mr. B's Bistro and Cindy Brennan. Cindy was so impressed "with her solid culinary foundation "that they offered her a job at Mr. B's right out of school. Michelle started at an entry-level position in the pantry and worked her way up to Sous Chef within a year. Experience in hand, Michelle then left Mr. B's to explore different parts of the country. While traveling, she worked at The Rattlesnake Club in Denver, Colorado, Cafe Max in Pompano Beach, Florida, and The Hamilton House in Grants Pass, Oregon.
In 1992 Michelle returned to New Orleans to open and work in Emeril Lagasse's NOLA as a Sous Chef. It wasn't long before Michelle returned to where she belongs-Mr. B's Bistro. It has been said that her success can be credited to her innovative ideas, her low-key demeanor and those meticulous organizational skills.
It was fate that brought Michelle back to New Orleans and to Mr. B's. In February of 1995 she easily moved from her position as Chef of Operations to that of Executive Chef. Since that time, Mr. B's has reached new culinary heights while maintaining its current standard of excellence under Michelle's direction.
---
Back To Team