Cindy Brennan
Managing Partner
---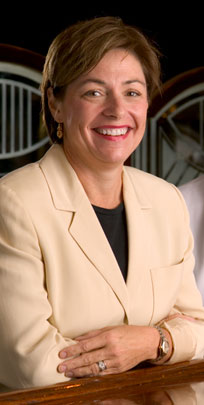 It's hard to grow up in a family business and not get involved, especially a dynamic family centered on restaurants and food. When one thinks of New Orleans and restaurants the Brennan Family is top of mind. And Cindy, with her entrepreneurial spirit has very much been a part of that restaurant family tradition.
Cindy is the co-owner and managing partner of Mr. B's Bistro, one of the family flagship restaurants located in the historic Vieux Carre. After graduating with a degree in business she followed a path away from the family business. She entered a buyer trainee program for a national department store and after spending time as an assistant buyer realized that her true passion was indeed the restaurant business. It was at that time Cindy joined the opening team to launch the popular French Quarter bistro, Mr. B's, in 1979.
Throughout her years of training and working in several of the family operations, Cindy settled into the leadership role at Mr. B's and under Cindy's direction the restaurant has received several prestigious awards including Restaurants and Institutions Ivy Award, Nations Restaurants News Fine Dining Hall of Fame, Gourmet magazine's "Top Spot for Business Lunch," Food and Wine magazine's "Best Business Lunch," several nominations for the James Beard Foundation Outstanding Service Award, and continued recognition by local food critics.
Aside from the restaurant, Cindy has played an active role as board member in both local and national organizations including the New Orleans Convention and Visitors Bureau, Louisiana Restaurant Association, New Orleans Restaurant Association, French Quarter Business Association, French Quarter Festivals, Inc., Vieux Carre Property Owners & Residents Association, The New Orleans Regional Chamber of Commerce, Distinguished Restaurants of North America, Les Dames des Escoffiers, International Association of Culinary Professionals, American Institute of Wine and Food, James Beard Foundation, and International Association of Women Chefs and Restaurateurs.
Cindy has also enjoyed working with various charitable organizations within the community; and she is proud to be the recipient of the Young Leadership Council's "Role Model" Award, the New Orleans Magazine "Iberville Award," the American Advertising Club's "Addy Award," and New Orleans CityBusiness "Woman of the Year".
Some of her memorable involvements in the community are the Symposium of American Cuisine held in New Orleans in 1983, the March of Dimes Gourmet Galas, chairing the 1989 Travel/Holiday Restaurant Reunion in New Orleans, working on the Lee Bailey New Orleans Cookbook. Cindy also helped orchestrate the 1992 A.I.W.F convention and the 1993 I.A.C.P. convention both held in New Orleans.
In 2004, Cindy Brennan authored her first book titled The Mr. B's Bistro Cookbook: Simply Legendary Recipes From New Orleans's Favorite French Quarter Restaurant.
In March of 2008 Cindy Brennan and her famous restaurant family were honored by the Culinary Institute of America as New Orleans' Fist Family of Food for their commitment to New Orleans food service and hospitality.
Additionally, in April 2014 Food Arts Magazine honored the Brennan family the Silver Spoon Award for sterling performance for maintaining high standards of hospitality and cuisine.
---
Back To Team